GCNews
GCNews has been published since 1995, with news about member organizations, programs, resources, green jobs, and more. Click on the subscribe icon (right) for a free email subscription. See below for latest issue.

Issue 927 : May 2019
RAIN Garden Master Class: new session
Green Communities Canada is once again offering the online RAIN Garden Master Class.
Starting 13 May, participants will have access to six hour-long classes, interactive mentoring from experts, and online peer support while they build their first garden. Those who complete a rain garden within six months will receive certification in this emerging eco-landscaping trend.
Cost $100. Register.
Hoping for investments
GCC Water Programs Manager Clara Blakelock was asked about her hopes for the next four years at the Civic Action Summit for the Greater Toronto and Hamilton Area. See her answer at the 1 minute mark.
Depave transformation awarded
Canada's largest depave won a provincial award and was recently featured on TVO.
GreenUP's Downtown Vibrancy Project removed 20 tonnes of asphalt in downtown Peterborough, ON, and replaced it with a rain garden. The project won an award for Streetscaping and Public Realm Improvements from the the Ontario Business Improvement Area Association.
"Depaving is a positive way to take action in our communities — to give people relief from climate-change anxiety and build community and camaraderie," says GCC Water Programs Manager Alix Taylor.
More information on how to support or volunteer at a depave project here.
Discover the fun of biking
Ontario Active School Travel encourages students and schools to celebrate Bike to School Week, 27-31 May, with cycling related events such as bike rodeos, bike safety and tune-up workshops, awards assemblies, and more.
Schools that register for the event can win a $200 Mountain Equipment Co-Op gift certificate. The first 50 schools that register will receive 500 free Bike to School Week stickers.
More information, resources, and a full list of prizes and incentives here.
New face at GCC
Vivien Leong has joined GCC as a School Travel Planning Facilitator, working with four schools in Ajax, ON for the spring and summer of 2019.
Vivien has supported cycling initiatives at CultureLink Settlement and Community Services (CultureLink), including its Bike to School Project, Bike to School Week, and the Bike Host program, which matches newcomers to Canada who are open to cycling with cycling mentors. Vivien also consults on active transportation projects.
"I'm excited to work with Ajax schools," says Vivien. "My folding bike is all ready!"
Vivien has a long history of cycling. See photo (right) with her mom and brother.
Connect with Vivien at STPAjax@greencommunitiescanada.org
Youth video challenge takes aim at climate change
Youth between the ages of 11 and 18 are invited to submit a short video on climate change (3 minutes or less) to the Plan E Video Challenge by 10 June for a chance to win $1000, screening at Canadian film festivals, and the opportunity to attend climate events across the country.
The video challenge is the first of many initiatives being spearheaded by Plan E, a new organization dedicated to equipping Canadian youth with the tools, resources, and platforms to champion climate change solutions.
More information here. Questions, or requests for an information session for schools/classrooms, contact Program Director Mikayla Wujec.
Plan E is hosted by the Elora Environment Centre.
Welcome Giuliana
Giuliana Casimirri, Green Venture's new Executive Director, has more than 15 years of experience in environmental outreach, research, and non-profit management. She's stepping into the role at a pivotal point in Green Venture's 25-year history. Giuliana will be steering the organization toward a renewed vision, strengthened strategic priorities, enhance community partnerships, and expanded environmental education services and programs.
Our members are hiring
Green Calgary is hiring an Executive Director. Apply immediately.
City Green, Victoria, BC, has an opening for a Part-time Financial Administrative Assistant. Apply by 13 May.
Conservation Corps Labrador and Newfoundland is hiring Green Team members for various locations. Apply now.
Windfall Ecology Centre, Aurora, ON, is hiring a full-time Registered Energy Advisor. Apply now.
Green Venture, Hamilton, ON, has several summer jobs openings. Check them out here.
---
GCNews has been distributed free to environmental practitioners since 1995.
GCNews is a publication of Green Communities Canada, a national association of community organizations that work with homeowners, businesses, governments and communities to reduce our impact on the environment.
---
Green Communities Canada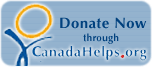 419 Chambers St, 2nd Floor, Peterborough, ON K9H 3V1
General inquiries: 705.745.7479  Fax: 705.745.7294
Email: info@greencommunitiescanada.org